St Catherine's
A spacious deluxe room with a large bay window. Panoramic views of South Beach, Caldey Island and to the left, the island just off Castle Beach which this room is named after - St. Catherine's Island.
Breathtaking views of some of Tenby's most beautiful sights
A spacious deluxe room named after the small island situated just off Castle Beach in Tenby which can be seen to the left of the hotel from the large bay windows in St. Catherine's room.   If you wake early enough you can watch the sun rise over St. Catherine's Island from the seating area in the bay window. 
St Catherine's Deluxe Room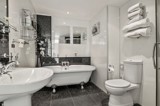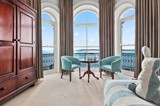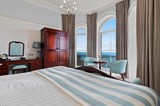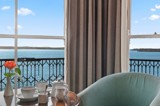 Sea View
Wifi
Bath & Shower
Hairdryer
Non smoking
King size bed*
Desk
Television
Tea and coffee making facilities
*Can be converted to Twin Beds
Daily Room Service
Glorious Views
Heating
Cots Available
Put up bed available on request
Book Online
Ready to Experience Giltar Hotel? Secure Your Stay Today! Click below to book your perfect room effortlessly online.
View Other Deluxe Rooms
The hotel has 9 deluxe rooms to choose from.  If you'd like to check availability for a specific room, please call us on 01834 842507
Get in touch
If you'd like to check availability for our accommodation, restaurant and/or events please get in touch - we'd love to hear from you!