Lunch at The Giltar
Indulge in the Flavours of Pembrokeshire at Our Lunch Service! Here at Giltar Hotel, we're passionate about crafting meals that delight the senses. Thanks to Pembrokeshire's abundant fresh produce from both sea and land, our chefs concoct mouth watering dishes you'll savour. Whether you opt for a light lunch in our cosy 'Cwtch' bar lounge or splurge on a Sunday feast, we've got something special for every palate. And remember, you don't have to be a hotel guest to dine with us. Our doors are open to all!
Food is our passion & we consistently try to create & develop dishes to titillate the palette!
We are lucky to have a wealth of fresh Welsh produce in Pembrokeshire both from the Sea & land allowing our Chefs to create delicious & sumptuous dishes.
Join us in our comfy bar lounge 'Cwtch' (Monday to Saturday) and enjoy a light lunch or treat yourself to an afternoon or cream tea.
We offer a warm welcome to everyone, you don't have to be a hotel resident. 
Our lounge menu below is served  between 12 noon till 2.30pm 
On Sundays, we serve a spectacular Sunday Lunch with all the trimmings to replace our daily lunches.  
Afternoon Tea is served between 2pm and 4pm.  Visit the Afternoon Tea page here 
Catering for all dietary requirements simply is no problem for our team.  We have vegetarian, vegan and gluten free options available, but do ring us to discuss at any time
Starters
Homemade Soup of the Day served with warm crusty bread (Ve, GF) £7
Giltar Pate with toasted bread shards & Apple Cider Chutney (GFA) £8.50
Classic Prawn Cocktail With Marie Rose sauce & buttered brown bread (GFA) £8.50
Baguettes/Sandwiches
Peppered rump of beef £8.75
Honey roasted ham & mustard (extra cheese 50p) £8
Cheddar cheese & pickle £7.20
Vegan cheese & tomato £7.50
Smoked salmon & cucumber £10.50
Chicken mayonnaise £8.75
All served with salad garnish and crisps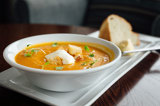 Old Favourites
Steak & Ale Pie £12.50
Deep Fried Breaded Scampi £14.95
Roast Fillet of Chicken £12.50 (GF)
Vegetarian Sausage £9.50 (V, GF)
All served with chips & peas
Chicken Curry £12.50 with rice or half & half (GF)
Honey Glazed Ham with egg & chips £12.50
Side Orders
Chips £3
Cheesy chips £3.50
Chilli chips £3
Onion rings £3
(V) Suitable for Vegetarians, (GF) Gluten Free Option Available, (VG) Vegan Friendly
*Please ask/advise for Gluten Free options*
If you have any allergy or dietary requirements, please ask a member of staff for assistance.
Please note that this menu may be subject to change due to seasonal variations, availability, etc.
Get in touch
If you'd like to check availability for our accommodation, restaurant and/or events please get in touch - we'd love to hear from you!